Developing Teams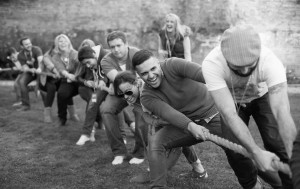 High performing teams share common criteria – the best teams learn and grow together and benefit from external facilitation and team coaching.
I get involved in a variety of activities in companies at team level:
Bespoke workshops designed to help the team explore key skill areas – eg creative thinking, time effectiveness, customer service
Team building away events – facilitating the learning from experiential activities – click here for examples
Team coaching – focusing the whole team on understanding what its purpose is, what it stands for, what factors are important to its success and how successfully it is currently functioning, communicating and engaging with key stakeholder groups.
The latter area is the deepest level and one where companies benefit from an external contributor – teams can find it hard to take a step back and review their successes and improvement areas in a way that encourages all individuals to contribute.
Team coaching can draw on a wide range of activities and approaches including:
Coaching team members individually as well as facilitating group discussion
Questionnaires to research opinion with team members and stakeholder groups
MBTI and other profiling
'Off-site' events and activities to explore areas such as purpose, values, goals, relationships, operational functioning and interactions with stakeholders
 "Zoe designed and delivered a bespoke course for a large and diverse team of marketing and communications professionals.  The session was highly relevant to our sector, challenged current thinking and behaviours and was lively and interactive. I look forward to working with Zoe again in the future." Paul Starkey, University of Bolton
 "Zoe's calm, collected disposition and skills to address the key areas and ask the right questions to promote thought and answers from within brought all the classroom sessions and post-project/activity analysis very much alive and applicable." Team event delegate, Pharmaceutical Sector