About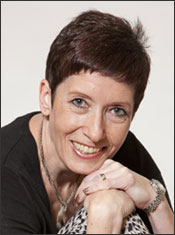 Hello, I'm Zoë Whitby and my passion is helping others to achieve more of their potential in their careers and lives. I'm based in Knaresborough, near Harrogate in Yorkshire and have clients across the UK.
I set up ZW Coaching in 2010 following a rich and varied professional career encompassing management, marketing, HR and training.
My main service areas are:
Team coaching and facilitation including workshop delivery*
Career coaching and personal effectiveness skills such as confidence and time management
I have developed and delivered courses on subjects from creative thinking to project management, customer service to management and leadership.  I take an interactive approach to my sessions enabling delegates to explore their own situations and introducing 'tools and techniques' which can be taken back to the workplace.
Professional credibility
I trained in coaching with The Coaching Academy in 2009 and hold diplomas in Personal Performance and Corporate and Executive Coaching. I am qualified and accredited to use the Myers Briggs Type Indicator® and I am also familiar with the DISC profiling tool. I am qualified to Practitioner level in NLP (Neuro Linguistic Programming) with INLPTA.
I have professional memberships of the European Mentoring and Coaching Council and the British Association of Psychological Type.  and continue to develop my skills through regular CPD activities, including coaching supervision.
I have a BSc (Hons) Mathematics from the University of York and a professional Diploma in Marketing from the Chartered Institute of Marketing.
More than a coach
Responsibility for HR in a medium-sized company (Havas People) has given me a good insight into people issues and the law of employment which is valuable context for management and career coaching.
I have been involved since 1995 with the Investor in People standard and have both taken companies through accreditation from scratch and worked on reviewing and improving performance against the evidence criteria.  I have also been involved in a submission for the Sunday Times Best Companies to Work for competition and have devised staff satisfaction surveys based on key criteria.
I have developed competency profiles for roles and introduced a 360 degree appraisal system, including the delivery of feedback to participants and follow up coaching.
As a marketer, I worked for 12 years as a consultant in the higher education sector, regularly working with senior management in universities to review current practices and using market research as a basis for recommending change.  I was a director of an educational marketing charity (The Higher Education Information Services Trust) giving me a national profile in the sector through conference speaking and the writing of a book guide to producing effective promotional publications for universities and colleges.
Prior to this I worked in marketing roles at Nottingham Polytechnic (now Nottingham Trent University), Broxtowe College and Derby Playhouse.